FOR YOUR THROAT & UNHINDERED RESPIRATION
ARANYA KAVA - GINGER COFFEE
Refreshing and rejuvenating powder that is a blend of dry ginger, palm jiggery, coffee, basil and black pepper. Boil two teaspoons in a glass of water for two minutes. A good cure for throat pains and common colds.
WINCOF AYURVEDIC COUGH SYRUP
A 100% kashayam, that tastes good. It has all the goodness of the blended herbs. Wincof syrup effective for all kinds of coughs in the old and the young equally; and does not have any side effects.
TO CLEANSE YOUR SYSTEM

Dashamoolarishtam
A general Ayurvedic tonic effective for indigestion, lack of taste, respiratory conditions, anemia, liver, skin and urinary disorders. This is a good immunity and strength booster.

Wild Honey
Forest honey in its purest form collected from the green paradise, Wayanad Ghats. Extremely positive effect on the issues of the three imbalances- vata, pitta and kabfa. It is advisable to take a spoon of this antimicrobial agent daily morning

Nectar Dahashamini
A soothing blend of blackwood, cinnamon, cardamom, cumin seed, dry ginger, coriander and Indian sarasaparila. This cooling concoction cleanses your blood and improves your skin tone.
SLIMMING LIQUID
All Slim (Slimming Liquid)
A herbal preparation that contains active ingredients that smartly cuts off excess fats from the body and maintains a normal sugar level.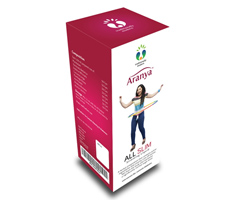 The natural touch of science on life
Ayurveda the ancient science of life, has blessed mankind with perennial solutions to have a healthy and pleasant living. The uniqueness of the great system of medicine lies in treating the'' 'causes' rather than the 'symptoms'. In a world of chaos, where mankind faces maladies of myriad kinds, people look up to the goodness of Ayurveda to go back to ways that are natural without the burden of having side effects.
Slimfit, an authentic herbal recipe prepared from black seed oil and pure honey and enriched with other finest ingredients, is rich source of antioxidants. It helps you have a healthy body with a shapely physique. Slimfit reduces excess fat, controls sugar, purifies blood and improve your immunity.